Steve Hobby, MD, CPC, FAAP
Pediatrician, Savannah, GA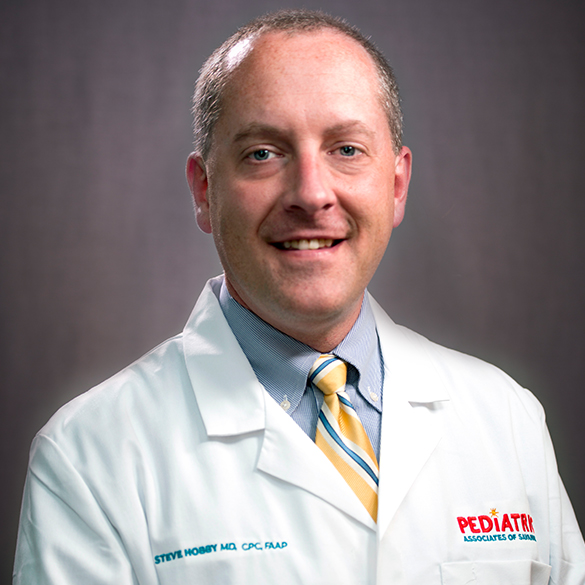 FOLLOW US ON SOCIAL MEDIA
Stay up-to-date with our doctors
and learn what's happening at our office!
Dr. Steve Hobby completed his undergraduate education at Vanderbilt University, where he obtained a BS in Biology with honors. He completed his medical school training at the University of Tennessee, Memphis, and went on to complete his pediatric residency at the University of Tennessee, Knoxville & Memorial University Medical Center in Savannah.

Dr. Hobby is board certified by the American Board of Pediatrics and is a fellow of the American Academy of Pediatrics. He is a member of both the American Medical Association and the Georgia Medical Society. He has a passion and interest in coding and is a Certified Professional Coder with the American Academy of Professional Coders (AAPC) and was Chairman of the Committee for Coding and Nomenclature for the Georgia Chapter of the AAP for 12 years. He is also on the Board of Medical Advisors for Liam's Land for Lymphatic Malformation Research. 

Teaching is also important to him, as he was a former 7th & 8th grade Science teacher with the Teach for America National Corps. He continues to teach as an Assistant Clinical Professor for the Mercer University School of Medicine.

Dr. Hobby has received numerous awards and honors such as the 2009 Young Physician Award by the Georgia Chapter of the AAP, the Kevin Robert Swabe Pediatric Residency award, and the Elizabeth Buford Shepherd Scholarship.

He is on staff at both Memorial University Medical Center and St Josephs/Candler hospitals.

Dr. Hobby is from Nashville, Tennessee. He enjoys spending time with family, traveling, snow skiing, SCUBA diving, and spending time at the beach.